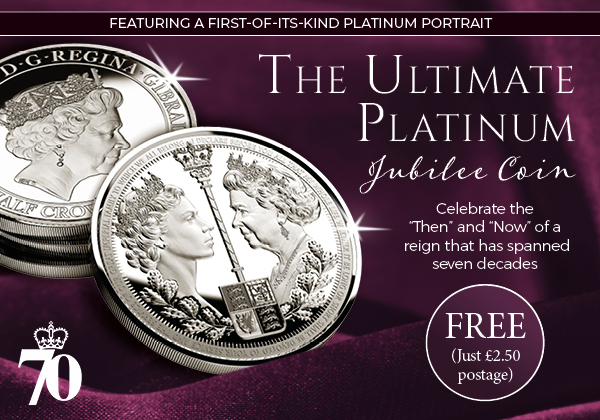 THE PERFECT CELEBRATION OF 70 GLORIOUS YEARS: FREE FOR YOU!
A queen whose reign has outlasted all other British monarchs and most other world leaders too, Her Majesty Queen Elizabeth II has broken a number of astonishing records in recent years. And this year we see perhaps the greatest of all! In her incredible Platinum Jubilee year – the first in British history, a brand-new, limited-edition coin has been issued to immortalise the duty and loyalty that Her Majesty has shown her nation for 70 years.
Celebrating the "Then" and "Now" of a reign that has spanned seven decades, The Ultimate Platinum Jubilee Coin features a FIRST-OF-ITS-KIND platinum portrait of our beloved monarch and is available now – FREE as a gift to you (just £2.50 postage).

Never before in British history has a monarch marked their Platinum Jubilee – this is truly a once-in-a-lifetime royal occasion! To celebrate this astonishing achievement, The Ultimate Platinum Jubilee Coin has been issued FREE as a gift to the nation.
By claiming your Ultimate Platinum Jubilee Coin, you have no further commitments, and your purchase is protected by The London Mint Office 14 day 'no quibble' guarantee.